Endel Rivers
Review of "Hardbite"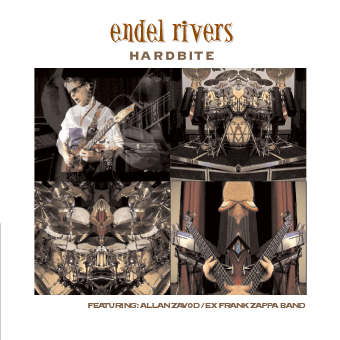 By: MJ Brady

Endel Rivers represents more of what seems to be a very impressive list of progressive minded fusion musicians coming for the country of Australia. When using the term progressive fusion, I am stating that the music focuses on well written compositions and arrangements that enable the musicians involved to play in a predominantly group type of a setting, no so much to feature anyone musicians soloing skills.

The music is both vibrant and complex, and the musicianship is as good as it gets. It seems as though the Australian fusion scene continues to bring out some of the very best in the world, what with recordings like On the Virg, Loose Change (both bands that featured Planet X drummer Virgil Donati), Sam Aliano (yet another drumming sensation), Indaba, Deluc, Frank Gambale, Brett Garsed, Ric Fierabracci, Chris Brooks, etc., these alone show that the Australian scene is setting new standards for focused fusion music that far exceeds the wealth of jam oriented superstar sessions that are getting major distribution and press.

No doubt Endel Rivers is showing the same high standards of performance meets compositions that those great artists are known for, and as a first cd there are really no weaknesses to speak of. His playing is very unique, perfected fitted for fusion, as he can play clean and dirty with equally good results, and he has a subtle savvy in his approach to the guitar, he is not all speed and riffs, but very tasteful and articulate, which seems to be a Australian staple for the guitarists from there. The songs as mentioned before are not fitted to display his virtues alone, the supporting musicians are all equally involved, and this is a great line-up, not the most well-known, but certainly deserving of more interest in the fusion world.

One of the performers names may standout to fusion heads, Allan Zavod, who had some lengthy stints with Jean-Luc Ponty and Frank Zappa returns to his fusion roots on this CD, with some outstanding keyboard playing, yet he is in good company with the rest of these talent rich players, as this CD is all about balance, and each player is highly competent to meet the demands of the various musical challenges presented throughout.

It is fusion like this that keeps me optimistic of the future of the cause, great musicians that are willing to dedicate the time and effort to create substance, that reaches beyond simple indulgence and showmanship. Endel Rivers may not be a household name, but this CD chould be one that fusion fans everywhere should look into getting, it really has all the key ingredients that most fans of the genre are looking for.
© Prognosis




Endel Rivers: Hardbite

Endel Rivers sets out to compose a multi-flavored, strictly instrumental effort on his CD Hardbite which he heads up on guitar and keyboards. River's music is centered around a diversity of musical ideas that deploy aggressive, hard-edged themes and riffs balanced by more soulful musical motifs that all provide a backdrop for his lead guitar work that is the focus of attention. Endel incorporates a number of different stylistic elements primarily from progressive rock and fusion influences, as well as from jazz and blues influences. His playing integrates some speedy runs, gutsy, well-placed phrasings, interesting harmonization, and accessible themes that provide a gravity that the music revolves. The composition on this album is coherent with well-developed musical ideas that are executed with a driving vision.

The soundscape across the album is interesting because it integrates many different flavors of tonality. The album opens with a fusion-ish track, "Klue Res Pate", that transitions through some nice, jazz-oriented progressions with Rivers' tactfully arranged fusion phrasings following the movement closely. The third track, "The Empress" deploys some eastern melody lines that are Middle-Eastern in flavor, but balances this with some European classically influenced piano sections. The contrast achieves the targeted effect, but the two divergent and contrasting elements work well together in the cohesive manner that Rivers integrates them. The fifth track, "Swim", is built around an unwinding, ascending melodic theme that Morris extemporizes around with fluid legato runs. This smooth theme is contrasted by a second theme that is founded in more abrubt rhythms and confrontational phrasings. The sixth track, "Pup", takes another change in direction into a more funk-based groove is worked with funky, melodic, contrapuntal phrasings that are articulated like a conversation. The ninth track, Olympus, diverges on another unexpected path with a symphonic sound and feel similar to "Fanfare for the Common Man." The diversity across the album is pleasing and disarming at the same time because of Rivers' broad scope.

In addition to the impressive compositional frame, Rivers and his accompaniment demonstrate a good sense for musical voicings to achieve the musical vision, both in the application of different instruments and different tones. Rivers has assembled an impressive lineup of talent, each of which make a polished, crafy contribution. The production that the effort is bundled is first rate facilitating unobstructed conveyance of the musical vision and execution.

Fusion fans that enjoy thoughtful composition and skillful, polished playing that is geared towards conceptual realization of musical vision should check out this CD from Endel Rivers and company. Though Rivers is a highly entertaining player, don't expect the onslaught of overwhelming speed and extreme technicianry you might get with some of the world class fusion masters, such as Frank Gambale or Scott Henderson. But, even so, the caliber of composition and playing on Hardbite still merit due consideration. And, I am only saying this to adjust expectations accordingly and put the effort into a broader perspective to help readers understand where the CD sits in the musical spectrum. But, don't let this disuade you from any potential interest in this CD because this is a truly impressive effort that Endel Rivers has put forth. Fusion fans should check this one out!